⦁ Steel Flat Bars are rectangular shaped hot rolled products made from ingots/billets.  
⦁ They offer a direct substitute to HR Plates of Primary Producers while greatly reducing the costs in comparison and providing flexibility is terms of grades, sizes, quantity & availability.
⦁ Steel Flat Bars manufactured by us are of superior quality with 90 Degree sharp edges, crystal clear surface finish and excellent material straightness. Our products are used in a variety of sectors such as Agriculture, Engineering, Automotive, Hand Tools amongst others.
⦁ Minimum Width: 100 mm
⦁ Maximum Width: 300 mm [with capacity to roll upto 400mm]
⦁ Minimum Thickness: 4mm [depending on size and grade]
⦁ Maximum Thickness: 32mm [depending on size and grade with capacity to roll upto 50mm]
⦁ Grades: Complete Carbon Steel Series, Hand Tool Grades, Low Alloy Steel etc. or any other grade as per customer requirement
⦁ Dimensional Tolerances: +/- 1mm in Width & +/-0.1 mm in Thickness
⦁ Surface Finishing: Square Edges with Clean Surface
⦁ Finished Length & Bundling: As per customer requirement

⦁ 1.75 lac sq ft Plant Area with Rolling Mill Sheds, Office Admin Building, Labour Quarters & Stores
⦁ 100 MT Main Weighbridge with separate weighbridges of 10 MT for Raw Material, Finished & Mobile Cranes
⦁ Fully Automatic 9 Stand Rolling Mill including 6 Stands, 3 Verticals, conveyors & skid system for material transfer and Descaling System
⦁ Motor Pressure Monitoring for each pass & Sample Inspection/Cutting Displays for complete material checking
⦁ Double Cast Iron & Machined Cooling with Material Transfer & Stacking System for online slow cooling with cold shearing for desired size cutting
⦁ Workshop – Lathes, Grinding Machine, Shaper and Drill to support the rolling requirements
⦁ Overhead and Mobile Cranes for easy movement of goods
⦁ Latest Energy Efficient Electrical Equipment – VCBs, Transformers, Panels and Operating Boxes
⦁ Inspection Areas for Raw Material & Finished Goods for ensuring Optimum Quality 
⦁ Pollution Control Device for a Greener Environment 
⦁ Water Recirculation & Waste Water Treatment Tanks for efficient water utilization
⦁ Back-Up Power Generator on Stand by
⦁ Testing Facilities – Spectro Analysis, Hardness/Mechanical Testing and Ultrasoun
⦁ At Special Steel Industries, we believe that QUALITY is the foundation of Success. It speaks volumes about the capabilities of an organization without words. Thus, a Quality Driven Process is ingrained into our ethos.
⦁ From the stage of Raw Material to the Final Finished Product, quality management systems have been placed to ensure continuous delivery of standardized products adhering to desired parameters.
⦁ Our rolling mill has been designed to ensure minimal dimensional variation whereas our Twin Cast Iron Machined Rails forming the surface of our Cooling Beds with Automatic Material Transfer and Online Stacking have been designed to minimize human interference while allowing online normalization/slow cooling of finished for better surface properties.
⦁ Our Testing Facilities include the latest Spectro Analyzer [Spectromaxx LMX09 from Ametek with Dual Optics & 16 Sensors for a pin-point accuracy of chemical composition of material] and Brinell Hardness Tester [B3000 PC of FIE for checking the BHN Hardness of all grades of finished]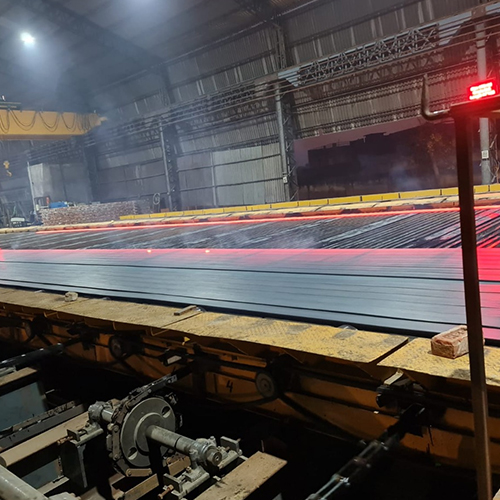 ⦁ Our consistency in quality comes not just from the technology and team but from repeated layers of inspection. Our pre-dispatch inspection of each and every piece of graded material is to cross check the entire process and to ensure delivery of goods within specified parameters to customer premises.
⦁ Reports are generated and compiled at each stage and sent for cross audit later to overcome any deficiencies, problems and issues faced. 
⦁ Our aim is to better ourselves and our processes. As quoted by Henry Ford: "Quality means doing it right when no one is looing."        
MANUFACTURERS OF STEEL BARS